Discover Kashmir At Its Best 4 Nights / 5 Days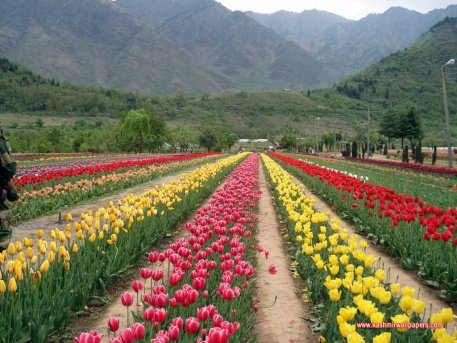 Day 01: - Srinagar Arrival
Pick up from Srinagar airport transfer to houseboat on arrival in houseboat Kashmire traditional tea will be served .Afternoon visit:-Mughal made garden these Gardens are known as Mughal gardens like-Nishat garden: built by Asaf Khan the brother of Jehangir in 1932 A.D. and Shalimar Bagh: built by Jahangir for her wife empress Nur Jahan. Chasma Shaie: was built by Mughal all the gardens situated on the bank of Dal Lake with the Zabarvan hills in the background. Evening back to houseboat dinner will be served overnight stay in houseboat at Srinagar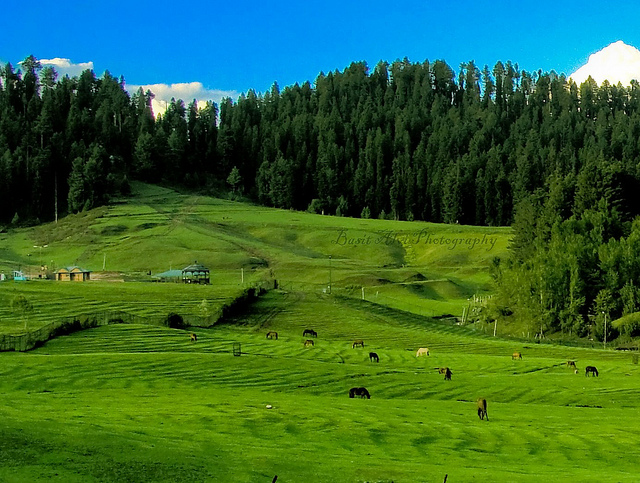 Day 02:- Srinagar To Yusmarg Day Trip
Morning after breakfast, full day excursion to yusmarg, which is approximately 47 km from the Srinagar and lies in the Badgam district of Kashmir. The two-hour drive on arrival pack lunch will be served on arrival. Grassy pastures stretching to acres of land, the dense forests full of pine trees, with the backdrop of splendid snow capped mountains leave you almost speechless. Within commutable distance from Srinagar, the capital of Kashmir, Yusmarg is the perfect place to go for a picnic. Another venue for the walkers is a river, known by the name of Dudh Ganga. Frothing and crashing on its way over the rocks, the river makes a little white foam, which gives it this name. A little ahead, is a lake, Nilnag, embraced with hills. Evening back to houseboat, dinner and overnight stay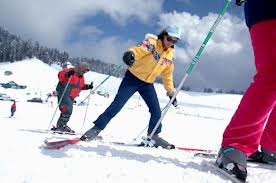 Day 03: - Srinagar / Gulmarg.
Morning after breakfast, drive to Gulmarg (meadows of flowers) 2730 mts. above the sea level. The distance of 56 kms. Will be 1 ½ HRS drive, on arrival in Gulmarg .Here you can have nice gondola ride up to the peak.
Gulmarg:-Gulmarg legendary beauty, its prime location and its proximity to Srinagar naturally make it one of the premier hill resorts in country originally named Gaurimargmouth.A. A moat indicates the dividing it was renamed Gulmarg in the 16th century by Sultan Yusuf Shah, who was inspired by the sight of its grassy slopes emblazoned with wild flowers. Gulmarg was a favourite haunt of Emperor Jehangir who once collected 21 different varieties of flowers. Today Gulmarg is not merely a mountain resort of exceptional beauty it also has the highest green golf course in the world, at an attitude of 2680 meters above sea level, and is the country's prime ski resort in the winter. Lunch at local restaurant will be served and in evening back to Srinagar dinner will be served overnight stay in house boat.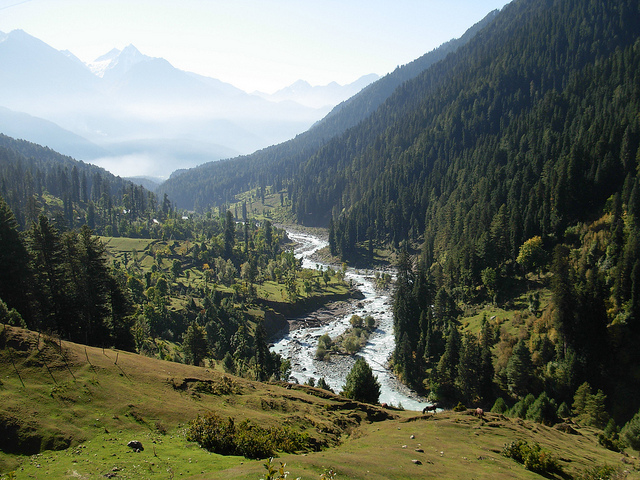 Day 04: - Srinagar / Phalgham.
After breakfast, drive to Phalgham (valley of shepherds) the total distance of 150kms.will be covered in 3 HRS. En-route visit saffron field of Pampore, and avantipura temple and enjoy the beautiful countryside drive through the pine forest.
Phalgham: - Phalgham, the Village of Shepherds! The Lidder River runs through Phalgham in a rushing gray-green torrent, foam flecked, and breaking in curling waves against the boulders that lie in its path. Its sound is an eternal as the whisper of wind through pine and fir, its force primeval its untamed splendour. Horse ride will be given to visit bobby house, golf course, Lidder valley. Lunch at local restaurant will be served and Evening back to houseboat Dinner will be served at stay overnight in house boat.